PUA stands for "Private Use Areas". When a font is PUA encoded it means that you can access all special characters such as the flourishes and swirly lines through Windows and Mac and that you can load them into applications such as Cricut Design Space, Silhouette Studio and all software that not support OpenType features.
Windows Character Map and Mac Font Book are the most standard ways of accessing PUA encoded characters.
Character Map (Windows)
To access Character Map just hit the windows bar and start typing "Character Map".
Open the application and in the "Font" dropdown, select the font you want to use and make sure the "Advanced View" box is checked.
In the "Group by" dropdown select "Unicode Subrange"
In the "Group By" menu that opened on the right side, scroll to the bottom and select "Private Use Characters".
Now on the left side you will see all the PUA encoded characters. You can click on the characters to see them a little bit bigger. If you want to use one of the characters click "Select" and after click "Copy". Now you can go to your application and ctrl+v the character and it will show up!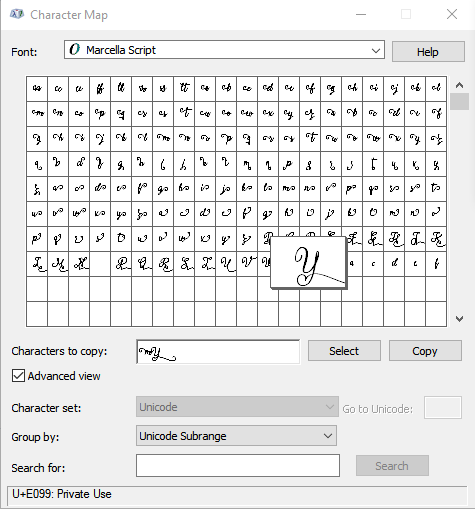 Font Book (Mac)
Go to your Applications Folder.
Search for the program called "Font Book" (this is the program that is also used for installing fonts).
Open Font Book and click View on top of your screen.
Select "Repertoire".
Now you will see all the characters included in the font that you select.
Select the character that you want to use and click "Edit" and "Copy" or "CMD + C".
Go to your application where you want the character to show up and right click and paste or "CMD + V".
Now the character is visible in the application you are using.
More Info : https://www.creativefabrica.com/the-ultimate-font-guide/pua-encoded-fonts/